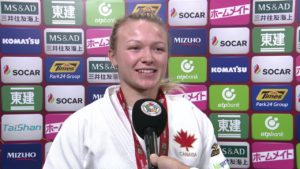 Canadian Olympic bronze medalist Jessica Klimkait of Whitby, Ontario won the gold medal in the women's 57 kilogram judo division at the 2023 Hungary Masters in Budapest on Friday. For Klimkait, who won the bronze medal in the women's 57 judo kilogram division at the 2020 Olympic Games in Paris in 2021, it was her fourth career medal at the Masters level. Klimkait won one of two judo medals for Canada on Monday. The other Canadian medalist was Kyle Reyes of Brampton, Ontario, who won the bronze medal in the men's 100 kilogram division.
Klimkait won all five of her matches. She defeated Ivelina Ilieva of Bulgaria, Lele Nairne of Great Britain, and Priscilla Gneto of France in Pool B, Pauline Starke of Germany in the semifinals, and Sarah Leonie Cysique of France in the final. Haruka Funakubo of Japan and Daria Bilodid of Ukraine shared the bronze medal.
Reyes beat Rafael Buzacarini of Brazil and Daniel Eich of Switzerland in his first two matches. That was followed by a loss to Peter Paltchik of Israel. Reyes then beat Toma Nikiforov of Belgium and Bojan Dosen of Serbia in the Repechage round to win bronze. Muzaffarbek Turoboyev of Uzbekistan won the gold medal and Paltchik won the silver medal. Ilia Sulamanidze of Georgia won the other bronze medal.
The other three times Kilmkait won a medal at the Masters level, she finished third. Klimkait won the bronze medal in 2018 in Guangzhou, China, in 2019 in Qingdao, China, and in 2021 in Doha, Qatar. The medals for Klimkait and Reyes will give them confidence as they prepare for the 2024 Olympic Games in Paris.