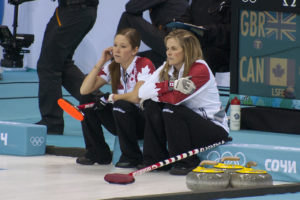 The Canadian women's curling team skipped by Jennifer Jones of Winnipeg, Manitoba is currently undefeated at the 2019 Curling World Cup Grand Final in Beijing, China. The Canadian team comprised of Jones, third Kaitlyn Lawes, second Shannon Birchard and lead Jill Officer, trounced Team Japan 10-1 in their opening game on Wednesday, and then beat the host team from China 4-1 on Thursday.
Canada is one of two undefeated teams in the women's tournament so far. The other is Switzerland's Silvana Tirinzoni, who won the 2019 Women's World Curling Championship this past March in Silkeborg, Denmark. Team Canada next plays the United States. Game time starts at 6:30 p.m. Mountain Time.
On the men's side, Kevin Koe of Calgary, Alberta, has a record of two wins and one loss. After opening the tournament on Wednesday with a 6-2 loss to Switzerland, Koe bounced back with a 5-4 win over Norway and a 9-2 win over Scotland on Thursday. He also got some help on Thursday as Scotland beat Switzerland 6-2. This means that there is currently a three-way tie for first place between Canada, Switzerland and Scotland in the group B standings with all teams at two wins and one loss. China and Sweden are tied for first place in Pool A at two regulation wins and one loss. Koe's next game is against Switzerland on Friday at 2 a.m. MT.
In mixed doubles, the top Canadian team in contention is Laura Walker of Edmonton, Alberta and Kirk Muyres of Saskatoon, Saskatchewan. Walker and Muyres have a record of two wins and one loss to date after wins over China and Switzerland.