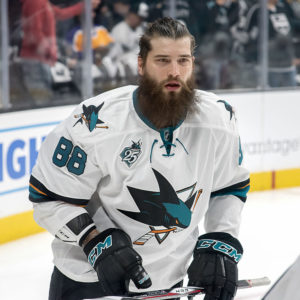 Brent Burns of Barrie, Ontario was one of three San Jose Sharks to have a multi-point game in their 3-2 win over the Colorado Avalanche in game seven of their second round playoff series on Wednesday night from the SAP Center in San Jose, California. Burns picked up two assists as the Sharks eliminated the Avalanche four games to be three. With the win, the Sharks will now play the St. Louis Blues in the 2019 Western Conference final of the National Hockey League Stanley Cup Playoffs, which will start on Friday from northern California.
Burns picked up his first assist on a goal by Joe Pavelski at 5:57 of the first period. Pavelski, who put the Sharks up 1-0 in the hockey game, was making his return to the ice after missing the last six games because of a head injury. Tomas Hertl notched the other assist.
Burns then notched an assist on the Sharks game winning goal by Joonas Donskoi. The goal by Donskoi came at 12:37 of the second period and put the Sharks up 3-1 at the time. Melker Karlsson picked up the other assist. Burns was one of three Sharks players with two points as Hertl and Pavelski each had one goal and one assist.
So far in the 2019 Stanley Cup Playoffs, Burns is one of three Sharks with 14 points to lead the team in scoring. He has five goals and nine assists. Logan Couture of Guelph, Ontario and Hertl each have nine goals and five assists.