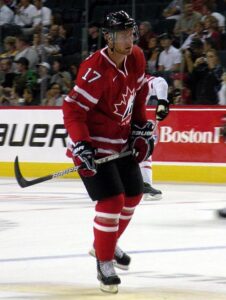 Canadian Olympic gold medalist Jeff Carter of London, Ontario scored a career-high four goals in a single game on Thursday as the Pittsburgh Penguins defeated the Buffalo Sabres 8-4. Carter had eight career National Hockey League hat tricks in the past, but never a four-goal game until Thursday.
Carter is the fourth player to score four goals in a game this season, and the first Canadian. Andrew Copp scored four times for the Winnipeg Jets in a 5-1 win over the Vancouver Canucks on March 24. Rocco Grimaldi scored four times for the Nashville Predators in a 7-1 win over the Detroit Red Wings on March 25. Jakub Vrana scored four times for the Red Wings in a 7-3 win over the Dallas Stars on April 22.
Vrana and Carter also have something in common. They each scored four goals in a game with their new team after being traded at the NHL trade deadline. Vrana was traded from Washington to Detroit, while Carter was traded from Los Angeles to Pittsburgh.
Carter, who won a gold medal for Canada at the 2014 Olympic Winter Games in Sochi, scored two of his four goals in the first period. He tied the game at one goal apiece at 9:57 of the opening frame from Jared McCann of Stratford, Ontario, and Frederick Gaudreau of Bromont, Quebec. Carter then put the Penguins up 2-1 with a power-play goal at 11:39 of the first period from Jason Zucker and Kasperi Kapanen. Carter's hat trick came at 4:36 of the second period to put the Penguins up 3-2. Marcus Pettersson and Gaudreau had the assists. Then Carter scored from McCann at 3:02 of the third period to put the Penguins up 6-3.
The Penguins lead the East Division with 75 points. They have two more points than the Washington Capitals.