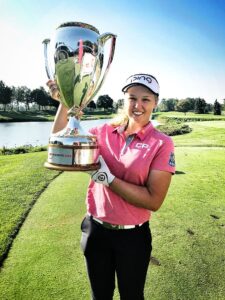 Brooke Henderson of Smiths Falls, Ontario is in contention after the first round of the 2020 ANA Inspiration in Rancho Mirage, California. On Thursday in the opening 18 holes, Henderson shot a four-under-par 68.
Henderson notched birdies on the second, third, fifth, ninth, and 16th holes. She also recorded a bogey on the first hole.
Currently in fourth place, Henderson is two strokes back of the leader, Nelly Korda of Bradenton, Florida, who is at -6. If the last name of Korda sounds familiar to Canadian sport recently, it should. That is because Nelly's younger brother Sebastian Korda lost to Denis Shapovalov of Toronto, Ontario, 6-4, 4-6, 6-3, 6-2 in the first round of the 2020 U.S. Open in tennis last Monday. Nelly is also dating Edmonton Oilers left winger Andreas Athanasiou of London, Ontario.
There is currently a two-way tie at -5. There you will find two-time major champion In-gee Chun of South Korea and Madelene Sagstrom of Sweden. Chun's major titles came at the 2015 US Women's Open and at the 2016 Evian Championship.
Henderson is tied at -4 in fourth place with Yu Liu of China, Danielle Kang of the United States, Kelly Tan of Malysia, and Nanna Koerstz Madsen of Denmark. In addition to Henderson who won the 2016 Women's PGA Championship, there is one other major winner in that group at -4. That is Kang, who won the 2017 Women's PGA Championship.
Meanwhile, there are 10 golfers at -3 and three strokes off the pace. They are Hannah Green of Australia, Kristen Gillman of the United States, Lydia Ko of New Zealand, Brittany Lincicome of the United States, Xiyu Lin of China, Mi Hyang Lee of South Korea, Sei Young Kim of South Korea, Sung Hyun Park of South Korea, Mel Reid of England, and Georgia Hall of England.
Of the golfers at -3, we have five more champions. Green won the 2019 Women's PGA Championship. Ko won the 2015 Evian Championship and 2016 ANA Inspiration. Lincicome won the 2009 and 2015 ANA Inspiration. Park won the 2017 US Women's Open and the 2018 Women's PGA Championship. Hall won the 2018 Women's British Open.