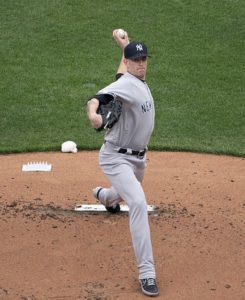 James Paxton of Ladner, British Columbia notched his first career Major League Baseball postseason win on Friday. Paxton, who is with the New York Yankees, pitched six innings against the Houston Astros and only gave up one earned run in a 4-1 Yankees win in game five of the American League Championship Series. With the win, the Yankees prevented being eliminated, but still trail the Astros three games to two in the best out of seven series.
Paxton threw 112 pitches, of which 72 were strikes. He had nine strikeouts compared to four walks, one earned run allowed and four hits allowed. According to FOX Sports, it was the first time in the history of the American League Championship Series that both starting pitchers had nine or more strikeouts. Justin Verlander had nine strikeouts for the Astros.
It was the first time in three postseason starts for Paxton that he went deep in the contest. He only pitched four and two thirds innings in game one of the American League Divisional Series against the Minnesota Twins on October 4 and then only two and a third innings in game two of the American League Championship Series against the Astros on October 13.
In 13 postseason innings to date, Paxton has given up five earned runs, 13 hits and seven walks. He also has 20 strikeouts, an earned run average of 3.46 and a WHIP of 1.54. Game six of the ALCS takes place Saturday night in Houston.