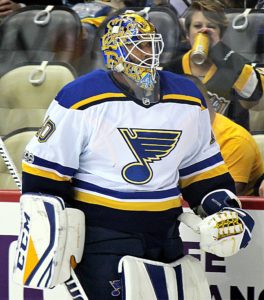 Carter Hutton of Thunder Bay, Ontario continued his magnificent start to the season for the Buffalo Sabres on Thursday. Now he is in the Sabres record books.
In a 3-0 Sabres win over the Los Angeles Kings on Thursday, Hutton set the Sabres franchise record for most saves in a game while recording a shutout with 47. He made 11 saves in the first period, 17 saves in the second period and 19 saves in the third period.
The old Sabres record belonged to a Canadian. Chad Johnson of Saskatoon, Saskatchewan had 44 saves in a 3-0 Sabres win over the Anaheim Ducks on December 17, 2015.
In the Sabres win over the Kings, it was Hutton's 13th career shutout and second this season. The first came in a 4-0 Sabres win over the Dallas Stars on Thanksgiving Monday. It was the last game Hutton has played, meaning that he now has shutouts in two consecutive games.
So far this season, Hutton has a perfect record for five wins and zero losses, a goals against average of 1.39 and a save percentage of .953. He has only given up seven goals in 301 minutes of action.
The Sabres have 13 points at the moment, and have the most points in the entire National Hockey League. They have one more point than the Edmonton Oilers, who have 12 points.