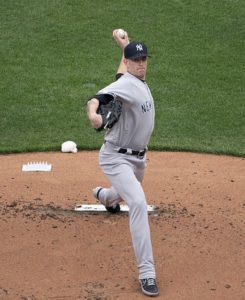 New York Yankees left handed starting pitcher James Paxton of Ladner, British Columbia could be ready for the start of the 2020 Major League Baseball regular season after all. On Monday it was announced that Paxton could be part of the Yankees starting rotation after recovering from back surgery in February.
According to Ken Davidoff of the New York Post, Paxton had microscopic lumbar discectomy surgery to remove a peridiscal cyst on February 5. He was expected to miss the first month of the season to recover from the surgery. However due to the Coronavirus, the entire MLB regular season has been delayed until at least the middle of May.
In 2019, Paxton played his first full year with the Yankees. In 29 games, he had a record of 15 wins and six losses and an earned run average of 3.82. In 150 2/3 innings pitched, Paxton gave up 138 hits, 64 earned runs and 55 walks. He had 186 strikeouts and a WHIP (walks and hits per innings pitched) of 1.28.
Paxton is in fact of one of three Yankees players who are currently out with injuries who could be ready for the start of the 2020 MLB regular season. The others are outfielder sluggers Aaron Judge of Linden, California and Giancarlo Stanton of Panorama City, California. Stanton led Major League Baseball with 59 home runs and 132 runs batted in while with the Miami Marlins in 2017. However, he only played 18 games in 2019 due to injuries to his shoulder, biceps and knee. Judge also had a marvelous 2017 season as he led the American League with 52 home runs in being named the rookie of the year.
The Yankees had the second best record in the American League in 2019 at 103 wins and 59 losses. They reached the American League Championship Series before losing to the Houston Astros in six games.