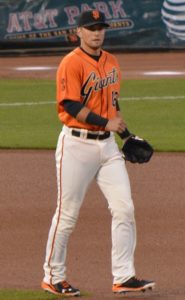 The Toronto Blue Jays added some infield depth this past week with the signing of second baseman Joe Panik of Yonkers, New York. The Blue Jays become Panik's third Major League Baseball team as he previously played with the San Francisco Giants and New York Mets.
Panik was initially signed to a minor league deal by Toronto on January 18. That was then upgraded to a full MLB contract on March 16.
Panik shared his 2019 Major League Baseball season with the Giants and Mets. In 491 plate appearances, Panik batted .244 with five home runs and 39 runs batted in. During 142 games and 438 at bats, he also scored 50 runs, had 107 hits, 21 doubles, two triples, four stolen bases, 43 walks, a .315 on base percentage, .336 slugging percentage, .651 on base percentage, 147 total bases, two sacrifice hits and four sacrifice flies.
At this time it appears Panik will backup starter Cavan Biggio and reserve infielder Brandon Drury at second base. With Biggio at second base, Bo Bichette at shortstop and Vladimir Guerrero Jr. at third base, the Blue Jays have one of the youngest infields in Major League Baseball.
Panik was an All-Star with the Giants in 2015. That year he batted .312 with eight home runs and 37 runs batted in. After the 2016 MLB regular season, Panik also won a National League gold glove as he only made five errors in 126 games. He also won a World Series with the Giants in 2014.