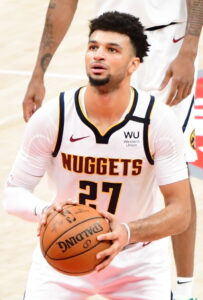 Jamal Murray of Kitchener, Ontario recorded a key double double for the Denver Nuggets in game three of the Western Conference Finals from Orlando, Florida on Tuesday. Murray had 28 points and 12 assists as the Nuggets defeated the Los Angeles Lakers 114-106. With the win, the Nuggets won their first game of the best out of seven series, but still trail two games to one.
Murray's 28 points led the Nuggets. He made 10 of his 17 field goal attempts, four of eight three-point attempts, and four of seven free throw attempts. Murray also had eight rebounds, two steals and was a +8.
Murray's 12 assists was the most he has had in a single playoff game in his career. His career high in assists came on December 18, 2018 when he had 15 assists in a 126-118 win over the Dallas Mavericks.
Murray was one of four Nuggets to register in the double digits in points. Jerami Grant of Portland, Oregon had 26 points, Nikola Jokic of Sombor, Serbia had 22 points, and Monte Morris of Grand Rapids, Michigan had 14 points. Jokic also had a double double as he had 10 rebounds.
In order for the Nuggets to even the series, they will need to do a better job in protecting the basketball. The Nuggets won game three despite having 18 turnovers, and the Lakers generating 11 steals. Game four of the series takes place on Thursday.