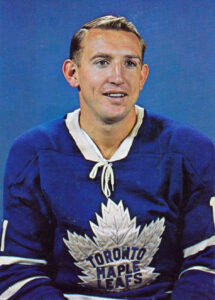 Former Toronto Maple Leafs right winger Bob Nevin of Timmins, Ontario passed away on Monday at the age of 82 according to Hockey Reference. Nevin played six seasons with the Maple Leafs from 1957 to 1964, and was part of the Maple Leafs teams that won the 1962 and 1963 Stanley Cups.
In addition to his six seasons with the Maple Leafs, Nevin played eight seasons with the New York Rangers, two seasons with the Minnesota North Stars and three seasons with the Los Angeles Kings from 1957 to 1976. In 1128 regular season games, Nevin had 307 goals and 419 assists for 726 points. He also had 215 penalty minutes, 170 power play points, 22 shorthanded points and 48 game winning goals.
Interestingly, Nevin's finest National Hockey League regular season came near the end of his career at age 37 with the Kings. In 1974-75, he set career highs in assists (41), points (72), plus/minus (+36), and shorthanded points (five), and tied career highs in goals (31), and shorthanded goals (two).
In the NHL playoffs, Nevin had 16 goals and 18 assists for 34 points. He scored the overtime winner for the Rangers in game six of the quarterfinal series of the 1971 Stanley Cup Playoffs. The Rangers won the game 2-1 and the series four games to two. In addition to his 18 seasons in the NHL, Nevin played one season in 1976-77 with the Edmonton Oilers of the World Hockey Association.