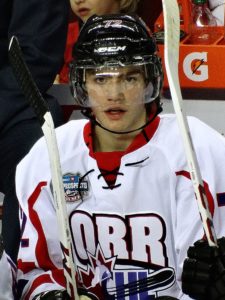 Brayden Point of Calgary, Alberta has taken over the National Hockey League lead in playoff goals. Point notched his 11th goal of the 2020 Stanley Cup Playoffs on Wednesday in game three of the 2020 Stanley Cup Finals. The Lightning defeated the Dallas Stars 5-2 to take a two games to one lead in the best out of seven series from Rogers Place in Edmonton, Alberta.
Point scored from Nikita Kucherov and Victor Hedman at 12:02 of the second period. At the time, the goal put the Lightning up 4-1. In the playoffs to date, Point now has one more goal than Vancouver Canucks center Bo Horvat of London, Ontario, Lightning defenseman Victor Hedman, Lightning left winger Ondrej Palat, and Dallas Stars center Joe Pavelski.
Point also registered an assist in game three. It came on the Lightning's final goal of the game by Palat at 18:55 of the second period to put Tampa Bay up 5-1. Point was one of four Lightning players to register a multi-point game. The others were Hedman (one goal and two assists), Palat (one goal and one assist), and Nikita Kucherov (one goal and one assist).
In other Calgary hockey news, the annual Mac's Midget Hockey Tournament in Calgary has been cancelled for 2020-21 because of coronavirus. The championship game takes place annually on New Year's Day at the Scotiabank Saddledome, and tournament organizers have midget teams come to Calgary throughout the world.