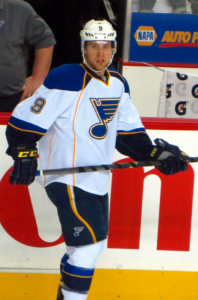 Jaden Schwartz of Melfort, Saskatchewan and Jordan Binnington of Richmond Hill, Ontario were instrumental in the St. Louis Blues' 5-0 playoff win over the San Jose Sharks on Sunday. Schwartz notched a hat trick for his second career three goal game in the National Hockey League Stanley Cup playoffs, while Binnington made 21 saves for his first career National Hockey League playoff shutout.
Schwartz scored his first goal of the game at 3:05 of the second period. The unassisted marker put the Blues up 2-0.
Schwartz then scored both of the Blues third period goals. The first came at 2:19 of the third period on the power play from David Perron of Sherbrooke, Quebec and Vladimir Tarasenko to put the Blues up 4-0 and the second came at 16:02 of the third period from Tarasenko and Brayden Schenn of Saskatoon, Saskatchewan to put the Blues up 5-0.
Schwartz's other playoff hat trick came in the 2019 Stanley Cup Playoffs. On April 20 in the Blues first round game six 3-2 win over the Winnipeg Jets, Schwartz scored all three of the Blues goals in their elimination game.
Binnington meanwhile made 11 saves in the first period, six saves in the second period and four saves in the third period. The Blues outshot the Sharks 40-21 throughout the evening. Game six is Tuesday night in St. Louis, with the Blues leading the best out of seven Western Conference Final three games to two.