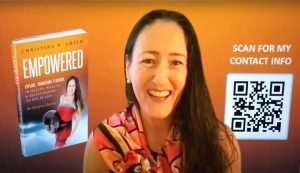 Bobsled got underway on Saturday at the 2022 Olympic Winter Games with the new event of women's monobob. Prior to the bobsled medals being awarded on Sunday, here is my interview with Christina Smith, who is a marvelous bobsled authority, and represented Canada in the first Olympic women's bobsled competition at the 2002 Olympic Winter Games in Salt Lake City.
JF: How excited are you about the Canadian national bobsled team heading into the 2022 Olympic Winter Games in Beijing?
CS: "I am ecstatic. It is always such an amazing thing to monitor the progress of the sport I was a pioneer in and there are so many women that have been part of this process. The sport of bobsled has evolved, and it is so thrilling to see a program excel. We are sending big numbers to the games, and it is wonderful how strong our Canadian bobsled program is."
JF: How meaningful is it for you that women's monobob is in the Olympic Winter Games?
CS: "Oh, it is great to see a new sport. It makes it possible for smaller nations to get involved in the sport. As pioneers, we had difficulty trying to find women to get involved in the sport because it (was considered) aggressive, (involved) a heavy piece of equipment, and there were also struggles with funding. With smaller nations, it is easier to find individuals rather than a team of two for four.
However, the interesting part of this whole journey of the monobob actually involves the sport of parabobsleigh. They were looking at how to implement a sled that could permit a para athlete to drive. Then they ended up refining it to a single person bobsleigh. Unfortunately, para bobsled has not been accepted yet into the Paralympic Winter Games.
Having women's monobob in the Olympic Winter Games (rather than four-women bobsled) is easier when finding funding, and helping athletes learn the piloting role. Women's monobob has also been included in the Winter Youth Olympic Games. It is an event that could be very helpful in evolving bobsled. I don't see why they couldn't include monobob for the men's program."
JF: The world's best bobsledders have not had a lot of experience on the Chinese track. Will the lack of familiarity by the bobsledders impact the results?
CS: "Absolutely. Coronavirus has been an unfortunate time for everyone. Home track advantage is very useful for the country that is hosting the Olympic Winter Games. For the rest of the countries it is a detriment. However it comes down to race day, and how well they perform. Visualization is such a key to the sport, and we do that when we are unable to get on to the track. A lot of our training is done mentally. Hopefully everyone will feel safe and confident in going down the track. It is a pretty exciting track and it is so beautiful."
JF: What can you say about Justin Kripps and what will he be able to do into order to beat Francesco Friedrich in the two-man or four-man competition?
CS: "Oh my goodness. Justin Kripps is an amazing soul. He is a standup gentleman, a standup athlete, and is a team player. That man has such an amazing sense of peace, focus, and drive. He is such an impressive person to see evolve, since he first started sliding in 2006. This pilot shone at the last Olympic Winter Games, and he is so amazing. It is a special time when you can tie on the podium with somebody (Kripps tied with Friedrich at the 2018 Olympic Winter Games in Pyeongchang). Between their two teams it is such a celebration. I believe we will see the Kripps and Friedrich teams absolutely shine because they are amazing athletes.
At the Olympic Winter Games, it will come down to who keeps it altogether, and performs their best. They are superior in both the two-man and four-man. They both have great strong teams. The beauty of bobsleigh is that it comes down to the day of competition, and how they can keep their nerves, and focus. Today, they have the beauty of four runs to determine Olympic champion. When I started we only had two runs. By having four runs, if you have a little bit of an off day, you may be able to make up for that. When it comes down to these superior athletes, it is going to be tight. Kripps has already proven himself. The pressure is off. He has already proven that he is an Olympic champion. This would be an amazing feat to do it again. He is such a cool cat. He is so composed. I really see that you will see the true essence of who he is comes out. What will be, will be. He will be such a class act, whatever the outcome."
JF: The big story in women's bobsled in this year's Olympics is Kaillie Humphries. Do you think she should be representing the United States?
CS: "You know what. I believe in freedom of speech, and freedom of actions. Every athlete should be able to do what they feel and do what they are drawn to do. Kaillie has been a tremendous athlete, whose performance has been above and beyond. She recently married an American, and that is to me, a natural transition of wanting to compete for the United States.
I personally have my own story with Kaillie. She was just starting out at the end of my career. I had a real desire to help the next up and coming athlete, in the program. I told her to go for it. She had the legs. She was a skier, I was a skier. There were parts of her career, where I saw this amazing athlete go through her discovery of bobsled. I reached out to her in Torino, and I told her, 'I believe in you. I /encourage you to go home, take the driving school, and when you do, you will have things in your own control as a pilot. Come and see me, and I will give you my equipment, my bobsleigh, and no strings attached. 'I also offered to introduce her to my network and sponsors. She took me up on it, and lo and behold, the rest is history. She went on to do her thing, and has been a very driven, very mentally focused athlete. Her parents are behind her. She has done everything she has wanted to do. She is ruthless. You know what. There are a lot of athletes at times who need to find the chemistry within themselves to figure out what they need to do to achieve, and I would wish upon everyone that they need to follow their heart, and what they believe is best. I think there is more to this story than what the media is letting on. We all deserve to do what we need to do, and the right of freedom. I think the more power to her, as it instigates, and stimulates, rivalry between the United States and Canada. It is all healthy competition."