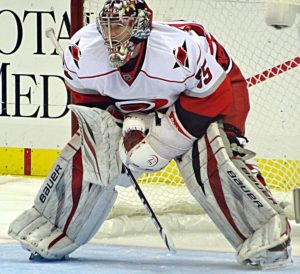 Team Canada has won its first game of the 2017 Sochi Open by a score of 1-0 over HC Sochi. With the National Hockey League not participating in the 2018 Olympic Winter Games in Pyeongchang, this is a major hockey tournament for Hockey Canada in their scouting analysis of their overall program.
It was a strong game for former Carolina Hurricanes goaltender Justin Peters of Blyth, Ontario. Peters, who now plays for Dinamo Riga of Russia's Kontinental Hockey League, made 23 saves for the shutout.
Peters, who represented Canada at the 2014 World Hockey Championship in Minsk, Belarus, will probably be a major part of the Canadian Olympic men's hockey team as he has 83 games of National Hockey League experience with the Hurricanes, Washington Capitals and Arizona Coyotes from 2009 to 2017. In that period, he had a record of 25-38-9, a goals against average of 3.08 and a very respectable save percentage of .901.
Meanwhile, the Canadian goal scorer on Sunday was Jesse Blacker of Toronto, Ontario. The defenseman played one game for the Anaheim Ducks in 2014-15 and currently plays for HC Kunlun Red Star in the Kontinental Hockey League.
Team Canada will have their hands full on Monday however as they play Russia. Game time from the Bolshoi Sport Palace in Sochi is 10:30 am MT.