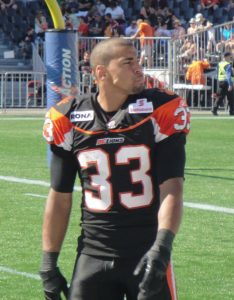 The Winnipeg Blue Bombers  gave the Edmonton Eskimos their first loss of the 2017 Canadian Football League season. However the bottom line is the 33-26 Winnipeg win should not come as a huge surprise.
It is quite simply shocking that the Eskimos won their first seven games. They could easily be around the .500 mark, but the fact that they have a winning percentage 0.875 is a testament to their outstanding production when it mattered the most.
On Thursday night, the Eskimos were trailing 17-3 at the half, but they did a great job to stay with the Blue Bombers until the very end. Still, Eskimos fans have every right to be disappointed by their team's lack of discipline (three too many men on the field penalties) and poor attempts in initial tackles which led the Blue Bombers to record an extensive number of yards after contact.
We also found out that the Blue Bombers are a force to be reckoned with as well in the CFL West. Even though Winnipeg has not won a Grey Cup since 1990, they have a chance this season to end their 27 year drought. First off, you have to love Winnipeg's two headed monster rushing attack. Andrew Harris of Winnipeg, Manitoba had a monster game for the Blue Bombers. Harris had 11 carries for 105 yards and also caught eight passes for 120 yards. Meanwhile backup running back Timothy Flanders had six rushes for 45 yards and two catches for 26 yards for 81 total yards.
The Blue Bombers also had outstanding energy from their offensive line. The group had their own individual "Lambeau Leap" into the crowd after the Winnipeg touchdowns, which definitely excited the crowd. Winnipeg improved to 6-2, and could definitely contend for first place in the CFL Western Division as we near the halfway mark of the regular season.