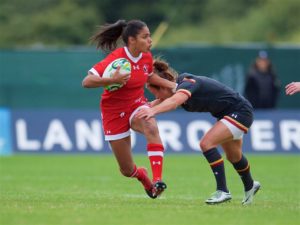 Team Canada won their second consecutive game on Sunday at the 2017 Women's Rugby World Cup in Dublin, Ireland. After hammering Hong Kong 98-0 on Wednesday, the Canadian ladies beat Wales 15-0 to improve to a record of two wins and zero losses in Pool A play.
Two Canadian players recorded tries in the game. Lori Josephson of Beaverton, Ontario had a first half try and Magali Harvey of Quebec City, Quebec had a second half try. Harvey also had a conversion on Josephson's try and successfully kicked a second half penalty.
Now the real tests start for Team Canada. They will have to play New Zealand on Thursday to close out pool A action. Due to the fact Canada did not get a bonus point against Wales (failed to score four tries), it could hurt them in their attempt to qualify for the semi-finals.
New Zealand meanwhile beat Hong Kong on Sunday even more impressively than Canada did last week. Portia Woodman had eight tries in New Zealand's 121-0 win over Hong Kong.
Four other teams remain undefeated–England, the United States, France and the host team from Ireland. One surprise could be the fact that Australia has a record of zero wins and two losses after they were hammered 48-0 to France on Sunday. Australia also lost 19-17 to Ireland to open the tournament. Since 1991, Australia has won five medals (two gold medals, two silver medals and one bronze medal) in the men's World Cup, but only one bronze medal in that same time period at the Women's World Cup of Rugby (bronze, 2010 in England).