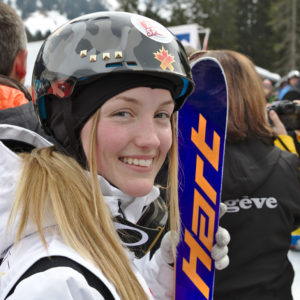 In my first of a series of ten interviews with Canadian sports stars who hope to participate at the 2018 Olympic Winter Games in Pyeongchang, I am honoured to share with you my interview with Canadian Olympic gold medalist Justine Dufour-Lapointe of Montreal, Quebec. Justine won a gold medal for Canada in women's moguls at the 2014 Olympic Games in Sochi and at the 2015 World Freestyle Ski and Snowboarding Championships in Kreischberg. For Justine, she has already made the Canadian Olympic team in freestyle skiing as she was announced to the squad on April 11, along with mogulists Mikael Kingsbury and Andi Naude.
Q: You enter the 2018 Olympic Winter Games as the reigning Olympic champion. How excited are you about Pyeongchang?
A: "I am always really excited when I hear the words "Olympic Games". This environment is so unique and powerful. It's exciting and I am excited to think I will be there."
Q: It is not often that there are three siblings that compete in a high level in one sport. Tell me about your relationship with Chloe and Maxime?
A: "My relationship (with my sisters) is actually amazing. We've been through so many things. I feel our relationship is so strong. At the 2014 Olympic Winter Games, it was the first Olympics for Max and me. For Chloe, it was her second Olympics. We got a lot of attention in Sochi, so we had to manage that as well. I feel so lucky and secure around them because we have each other's backs. It is how we were raised. Every time that we struggle, we can count on each other. In unity, we find strength."
Q: At the 2014 Olympic Winter Games in Sochi, Chloe won the silver medal. What was it like to share the podium with her?
A: "Just competing in Sochi was amazing. Then jumping on the podium was amazing. It was crazy. I couldn't imagine that. You turn around and you're not alone. Your sister is living the same one as you. We were just living the dream."
Q: About two years ago I saw the Dragon's Den episode and was pleased to see that Michael Wekerle had made a huge contribution to the Canadian freestyle skiing program. How has the team been able to benefit from that financial aid?
A: "I can't completely answer that question. He helped for sure because the freestyle ski team had trouble (financially) after the 2014 Olympic Winter Games in Sochi. At the time, I think the team put all the money into going to Sochi, so afterwards it was difficult to find more money. We were lucky to find more money and it greatly helped the whole team."
Q: At this time, Britteny Cox of Australia is considered the top female mogulist in the world. Is there anything specific that you have been impressed with her abilities?
A: "Britteny competed at the 2010 Olympic Winter Games in Vancouver. It has been a while that she has been competing. It was really impressive this past year that she improved her game (World Championship and Crystal Globe titles). I think it's good for me. I want to push my limits and prepare for next year (the 2017-18 World Cup season, and the 2018 Olympic Winter Games)."
Q: You have also had success in dual moguls in your career. Would you like to see dual moguls be an Olympic event in the future?
A: "I think so. I would love to see more events at the Olympic Winter Games. That would give me more chance to win another medal. Right now we only have one event and that is it. For us, it is really hard to make the Olympic Winter Games. I would love it if there were more events and have a chance to compete two times at the Olympic Winter Games. Dual moguls is really exciting to watch. I'm sure the public would love it."
Q: What are your goals this upcoming moguls season?
A: "Pyeongchang is on top of the list. I want to be consistent. I want to deliver the right performance at the right time. I want a clean, fast, high jump that everyone wishes for."