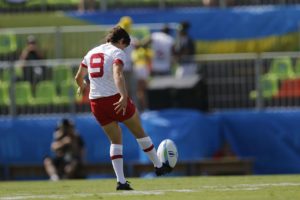 Team Canada won the bronze medal on Sunday in a women's rugby sevens World Series event in Clermont, France. The Canadian team hammered the host French squad 36-7 in the bronze medal game.
The Canadian women went through Pool B play on Saturday undefeated. They comfortably beat Brazil 29-0 and England 45-0 before getting by Russia 24-14 to win the pool. In the quarterfinals on Sunday, Canada once again destroyed their opponent as they beat Ireland 31-0.
Team Canada's only loss in the tournament came in the semi-finals as they were narrowly beaten by Australia 19-14. New Zealand beat Australia 22-7 to win the gold medal.
Two Canadians had an excellent World Series event in France. Ghislaine Landry of Toronto, Ontario led the tournament in scoring with 45 points while Charity Williams of Toronto, Ontario was tied for third in scoring with 35 points.
The World Rugby Women's Sevens Series event in Clermont, France was the final event on the 2016-17  schedule. The Canadian squad was able to reach the podium in five of the six events. They won the tournament in Sydney, Australia in February, reached the final in tournaments in Japan and Canada (Langford, British Columbia) and also placed third in Las Vegas.
Team Canada won the bronze medal in women's rugby sevens at the 2016 Olympic Games in Rio de Janeiro, as rugby made its return to the Olympic stage. The successful season will give Canada confidence as they prepare for the 2020 Olympic Games in Tokyo.