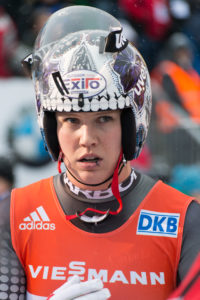 In the ninth of 10 previews of high performance Canadian Olympians who are medal contenders at the 2018 Olympic Winter Games in Pyeongchang, I am thrilled to share my interview with six-time world championship medalist Alex Gough of Calgary, Alberta. At the 2014 Olympic Winter Games in Sochi, Gough finished fourth in women's singles and again in the mixed relay. Throughout Olympic history, Germany has dominated women's singles luge as they have won 10 of the 14 gold medals. Gough is ready to challenge the German domination in the sport and try to become the first Canadian luger ever to win an Olympic medal.
Q: Heading into the 2014 Olympic Winter Games, there were a lot of expectations for the Canadian luge team. Looking back to three and a half years ago, what do you remember most?
A: "There were a lot of expectations. A lot of those expectations were ones we put on ourselves. I had a good race (at the 2014 Olympic Winter Games in Sochi where she finished fourth), I just fell a little short. It was tough, but that is the nature of racing. I came out of that and decided I would learn what I could from that experience and move forward with a lot of fuel on the fire heading into these Games."
Q: There has been a period since the Olympic cycle where you missed some World Cup races to focus on your engineering degree at the University of Calgary. Talk about the challenges of combining academics and competing in high performance sport at a high level.
A: "I made the decision after the 2014 Olympic Winter Games to go back to school and to achieve what I wanted to achieve both in sport and in school. I wanted to put myself in the position to when I do go back to school, I am half way through my degree rather than starting from scratch. It also gave me something else to focus on. I needed something to take me out of the 'full in-sport world' and give my brain an opportunity to focus on something else. I think that has actually helped me in terms of being motivated and committed to this past year and this upcoming year. It was hard to balance those things, but I think that the added pressure to do well in both things, only helped me grow. I am definitely happy I made that decision and I am looking forward to the next year."
Q: In 2011, you became the first non-German to win a World Cup race in women's luge in ten years. How gratifying was it for you to stop the German domination?
A: "It was a crazy race. We were at this track in Paramonovo, Russia. It was a new track for everybody. We had two weeks of training there before we went into the race. I figured out the track. It was a tricky track to figure out. I was in second place after the first run (behind Tatjana Hufner of Germany) and after being in the sport for so many years and seeing the Germans win every single race, it was almost hard to believe. One of the girls who was sitting in third (Natalie Geisenberger of Germany) tapped me on the shoulder when the German girl in front of me made a mistake and told me 'I won the race'. I didn't believe it. I was watching the television, and the difference showed up in red. It was surreal. It was one of those defining moments. Just to contribute to that change in mentality on the women's side that the German women can be beat and they aren't going to dominate every race. I think there has been a huge shift in that regard and that there are three or four of us from different countries who push them and challenge for those podium positions. It has been a privilege to be part of that."
Q: You are now one of two Canadian lugers who have a legitimate chance to medal at the 2018 Olympic Winter Games. The other is Kim McRae who won a bronze medal at the World Championship in Igls. What have you been impressed the most from Kim over the years?
A: "Kim works so hard. She works so hard, she doesn't know when to say no. That work ethic has helped me and driven me to work harder. Basically, now we are on a level playing field in competition. I feel so privileged to be her teammate and have her with me. It is great to feed off of someone and on top of that have someone who is a really good friend."
Q: You have now won six medals at the World Luge Championships. Is there one particular medal that has the most meaning for you?
A: "The 2013 World Luge Championships in Whistler. Competing at the 2010 Olympic Winter Games in Vancouver was one of the most difficult experiences for me (finished 18th). I had so much training on the track prior to the Games and had to deal with the death of a competitor (Nodar Kumaritashvili of Georgia died in training prior to the men's Olympic luge competition). He was someone a week prior to that I was sitting across the start house from. It (Kumaritashvili's death) obviously hits everyone in different ways. It wasn't necessarily something that shook my confidence in sliding. It was tragic. Nodar was there because he loved what he was doing and wanted to be there. So, to continue and persevere forward was the best way to honour his memory. Then to have the starts changed, and to start from what we call a 'junior start', the race was won and lost in the first 50 metres and we had no training in those 50 metres. It was a really hard, really disappointing, and gut wrenching experience for me.
So, to come back in 2013, it was a different start than when we raced at the Games, but one more appropriate to being raced from. To come back and finish third, was that full circle closure on Vancouver."
Q: Looking back at your 2016-17 World Cup season, you finished in fifth in the standings and won a strange World Cup in Whistler. Even though there was only one run down the hill in Whistler, how much confidence are you able to take away from that win?
A: "A lot of confidence. Whistler is the home track for us and we do a lot of training there in the fall. It is kind of like one of those tracks, just by the number of runs I've had there that I can kind of slide it with my eyes closed. It is just so comfortable and a confidence-building track for me. We had three training runs and a race later in the day. When I went into it, I thought I was going to go for it and give it my best shot. Kim and I have had the most runs from the start than anyone else who has raced there. I just tried to make the best of it."
Q: What are your goals for the 2017-18 luge season?
A: "Just to continue to build off of last season. It was sort of an interesting season coming back from the partial seasons I had prior to that. I had a really great North American stint. It was up and down a bit after Christmas, and I finished off on a high note, not necessarily in terms of results, but in terms of confidence. I am looking forward to next season and putting together the best performances that I can and we will see what happens."