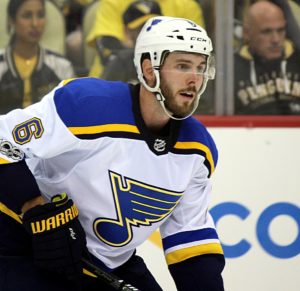 According to Rogers Sportsnet on Saturday, the Carolina Hurricanes have traded defenseman Joel Edmundson of Brandon, Manitoba to the Montreal Canadiens for a fifth-round draft pick in the 2020 National Hockey League Entry Draft. Edmundson is expected to play a regular role on the Canadiens' blueline next season.
In 68 games with the Hurricanes, Edmundson had seven goals and 13 assists for 20 points. He was a +7 with 72 penalty minutes, 97 shots on goal, 91 blocked shots, 118 hits, 23 takeaways and 45 giveaways.
Edmundson had career highs in 2019-20 in assists, points, and takeaways. He was second on the team in blocked shots and hits. The only Hurricanes player with more blocked shots was Jaccob Slavin, who had 107 blocked shots. The only Hurricanes player with more hits was Jordan Staal of Thunder Bay, Ontario, who had 149 hits.
In the 2020 Stanley Cup Playoffs in Toronto, Edmundson had one goal in four games for Carolina. Prior to his time with the Hurricanes, Edmundson spent three seasons with the St. Louis Blues. He was on the Blues squad that won the 2019 Stanley Cup, the only time in the history of the Blues franchise the team lifted the Cup.
In NHL action on Saturday, the Dallas Stars beat the Vegas Golden Knights 2-1 at Rogers Place in Edmonton. With the win, the Stars take a 3-1 series lead in the Western Conference Final.