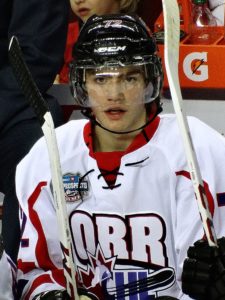 Brayden Point of Calgary, Alberta, and Yanni Gourde of Saint-Narcisse-de-Beaurivage, Quebec each had multi-point games for the Tampa Bay Lightning in their 4-1 win over the New York Islanders in game four of the Eastern Conference Final series. With the win, the Lightning lead the Islanders three games to one in their best out of seven series from Rogers Place in Edmonton, Alberta.
Point notched one goal and one assist for two points, while Gourde had two assists. Point is now tied in playoff scoring with 25 points, alongside Lightning teammate Nikita Kucherov of Maykop, Russia, and Colorado Avalanche centre Nathan MacKinnon of Springhill, Nova Scotia.
Point generated his two points on the Lightning second and third goals. He picked up a secondary assist on the game winning goal by Ondrej Palat at 11:54 of the second period, and then scored his ninth goal of the postseason at 3:33 of the third period. Gourde meanwhile notched assists on goals by Blake Coleman and Patrick Maroon. Game five of the series will take place on Tuesday.
In the Western Conference Final series, the Vegas Golden Knights are facing the Dallas Stars. Dallas currently leads that series three games to one with game five in Edmonton on Monday.