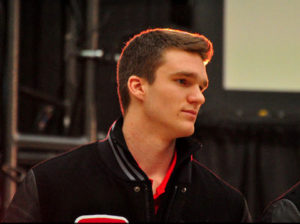 Jonathan Huberdeau of Saint-Jerome, Quebec has been named the National Hockey League first star of the week for the week from March 4 to March 10, 2019. In four games, Huberdeau, who plays for the Florida Panthers, had four goals and five assists for nine points.
On March 7, Huberdeau had two goals and one assist for three points in a 4-3 Panthers loss to the Boston Bruins. On March 8, Huberdeau had one goal and three assists for four points and was a +5 in a 6-2 Panthers win over the Minnesota Wild. Then on March 10, Huberdeau had one goal and one assist for two points in a 6-1 Panthers win over the Detroit Red Wings. Also throughout the week, Huberdeau was a +6 with four power play points, 14 shots on goal, four hits, two blocked shots and one faceoff win.
To begin the month of March, three Canadian hockey players have recorded a hat trick. On March 2, Jamie Benn of Victoria, British Columbia scored three times in a 4-1 Dallas Stars win over the St. Louis Blues. On March 4, Tyler Ennis of Edmonton, Alberta scored thrice in a 6-2 Toronto Maple Leafs win over the Calgary Flames. Then on March 12, Boone Jenner of Dorchester, Ontario notched a hat trick in a 7-4 Columbus Blue Jackets win over the Boston Bruins.