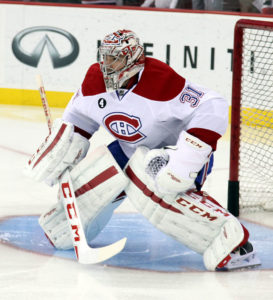 Canadian Olympic gold medalist Carey Price of Vancouver, British Columbia, set the Montreal Canadiens record on Tuesday for most career wins for a goaltender. Price made 20 saves on 21 shots as the Canadiens defeated the Detroit Red Wings 3-1 at the Bell Centre in Montreal, Quebec.
Price, who won the gold medal for Canada in men's hockey at the 2014 Olympic Winter Games in Sochi, recorded his 315th National Hockey League regular season win. The old Canadiens record belonged to Jacques Plante of Shawinigan Falls, Quebec, who had 314 wins for the Canadiens from 1952 to 1963.
It has been a marvelous month of March for Canadian goaltenders in the NHL to date. In the first 12 days, there have been seven Canadian goaltenders who have recorded shutouts with Marc-Andre Fleury of Sorel, Quebec recording two shutouts. Fleury made 34 saves in a 3-0 win over the Anaheim Ducks on March 1 and then 19 saves in a 3-0 win over the Vancouver Canucks on March 3. For his two shutouts in a week from February 25 to March 3, Fleury was named the NHL's first star of the week.
The most impressive shutout by a Canadian goaltender in March has come from Devan Dubnyk of Regina, Saskatchewan. Dubnyk made 25 saves on March 7 in beating the best team in the National Hockey League, the Tampa Bay Lightning 3-0. The other Canadian goaltenders with a shutout in March to date are Matt Murray of Thunder Bay, Ontario, who made 25 saves in a 3-0 Pittsburgh Penguins win over the Columbus Blue Jackets on March 7, Darcy Kuemper of Saskatoon, Saskatchewan, who made 30 saves in a 2-0 Arizona Coyotes win over the Calgary Flames on March 7, Jake Allen of Fredericton, New Brunswick, who made 28 saves in a 4-0 St. Louis Blues win over the Los Angeles Kings on March 7, Braden Holtby of Lloydminster, Saskatchewan, who made 25 saves in a 3-0 Washington Capitals win over the New Jersey Devils on March 8 and Martin Jones of Vancouver, British Columbia, who made 24 saves in a 3-0 San Jose Sharks win over the Minnesota Wild on March 11.