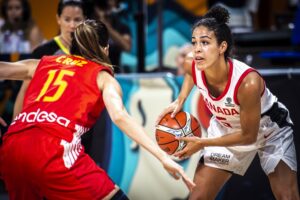 There were a lot of expectations for the Canadian women's basketball team heading into the 2020 Olympic Games in Tokyo in 2021. After reaching the quarterfinals at the last two Olympic Games, there were high hopes that this Canadian team would land on the podium.
However, heading into the final day of Group play, Canada will need some help from other teams to get into the quarterfinals, after winning only one of three games in Group A play. Here are the scenarios which would get Canada into the final eight.
1) Nigeria win over Japan by 40 points or less. Japan is currently at one win and one loss, while Nigeria is at two losses. Game takes place Sunday evening at 7 p.m. MT.
2) United States win over France by 15 points or more. In what is the most likely scenario, the United States (2-0), have already beaten Japan by 17 points, but only beat Nigeria by nine points. Game takes place Sunday evening at 10:40 a.m. MT.
3) Puerto Rico win over Australia or an Australia win over Puerto Rico by 23 points or less. Puerto Rico has struggled in the tournament so far, as they have lost by a combined total of 77 points. Game time takes place on August 2 at 6 a.m. MT.
In women's team sports at the Olympic Games, the Canadian women's rugby team was a heavy favourite to reach the quarterfinals, but had significant losses to Fiji and France where they played terrible as a unit, and did not meet expectations. Meanwhile, the Canadian women reached the quarterfinals in women's water polo, with a record of one win and three losses, but will be in tough against the United States (August 2, 11 PM MT). Meanwhile, the Canadian men's volleyball team (2-3) is in the quarterfinals for the second straight Olympic Games (August 2, 6 PM MT). Just like the quarterfinals of the 2016 Olympic Games in Rio de Janeiro, the Canadian opponent will be Russia. Five years ago, Russia beat Canada 25-15, 25-20, 25-18.