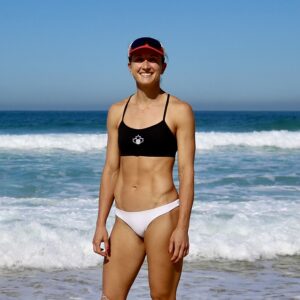 Team Canada will have two representatives in the quarterfinals in women's beach volleyball at the 2020 Olympic Games in Tokyo in 2021. On Monday in Japan (Sunday evening in Canada), the Canadian team of Sarah Pavan of Kitchener, Ontario and Melissa Humana-Paredes of Toronto, Ontario, continued their perfect record as they defeated Liliana Fernandez Steiner and Elsa Baquerizo McMillan of Spain 21-13, 21-13 in the women's round of 16.
Meanwhile, Heather Bansley of London, Ontario, and Brandie Wilkerson of Toronto, Ontario pulled off a minor upset. That is because they defeated the Pool D champions of Kelly Claes and Sarah Sponcil of the United States, 22-24, 21-18, 15-13. Heading into the game, the United States were undefeated, but Claes and Sponcil struggled in defending Bansley, who had 26 attack points, and 17 successful digs.
Prior to the round of 16, Bansley and Wilkerson had only won one of three matches, as they defeated Argentina's Ana Maria Gallay and Fernanda Pereyra 22-20, 21-12. However, the fact that they won one set against China helped them avoid playing in a lucky-loser situation, and get to the round of 16 as one of the top two third place teams in pool play.
In the quarterfinals, Bansley and Wilkerson will play the Latvian duo of Anastasija Kravcenkova and Tina Graudina. Pavan and Humana-Paerdes will play the Australian duo of Taliqua Clancy and Mariafe Artacho  del Solar. The other two women's beach volleyball quarterfinal matches have Alix Klineman and April Ross of the United States against Maggie Kozuch and Laura Ludwig of Germany along with Joana Heidrich and Anouk Verge-Depre of Switzerland against Ana Patricia Silva Ramos and Rebecca Silva of Brazil.