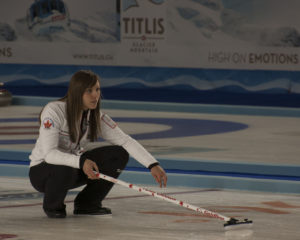 Rachel Homan of Ottawa, Ontario and Mike McEwen of Winnipeg, Manitoba have advanced to the 2017 Canadian Olympic Curling Trials on Sunday from the Canadian Tire Centre in Ottawa, Ontario. There will be a new Olympic champion in women's curling in 2018 as Homan defeated reigning Olympic gold medalist Jennifer Jones of Winnipeg, Manitoba 6-3 in the semi-final on Saturday.
Homan will now play Chelsea Carey of Calgary, Alberta in the Canadian Olympic Curling Trials final. Even though Homan lost 8-4 to Carey in the opening draw of the tournament on December 2, she should be considered the favourite. Since her loss to Carey, Homan has eight straight wins and beat Jones not once but twice, in convincing fashion. Homan, the reigning world championship gold medalist will also have home ice advantage on her side.
It will also be an interesting matchup at the third position, as Homan third Emma Miskew takes on Carey third Cathy Overton Clapham. Miskew is a better takeout player, while Overton Clapham may have the advantage with finesse shots.
On the men's side, McEwen will play Kevin Koe in a game where the teams play similar styles. Both squads have a combination of experience and a variety of skill. On Saturday, McEwen beat the reigning men's world champion Brad Gushue of St. John's, Newfoundland 6-4. McEwen was excellent in the second half of the men's semi-final and made some high quality shots. The fact that McEwen has never been to the final of the Brier or Canadian Olympic Curling Trials before, may give him a disadvantage when he faces Koe on Sunday.