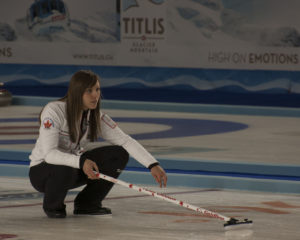 Three-time Scotties Tournament of Hearts champion Rachel Homan is in top form at the 2019 Scotties Tournament of Hearts in Sydney, Nova Scotia. On Thursday, Homan moved into a first place tie with Alberta and Saskatchewan at seven wins and two losses after a dominating 9-2 win over the Wildcard squad skipped by Casey Scheidegger of Lethbridge, Alberta and a 9-6 win over six-time Scotties champion Jennifer Jones of Winnipeg, Manitoba.
Homan took a 4-0 lead on Scheidegger after three ends and then had four points in the sixth end to take an 8-2 lead. Homan got off to an equally as impressive start against Jones as she took a 5-1 lead after four ends.
Of the remaining eight teams left in the championship pool, the teams with three losses or less are in the best position. Northern Ontario's Krista McCarville, Prince Edward Island's Suzanne Birt and Scheidegger are all at six wins and three losses. It appears that the teams at four losses (British Columbia's Sarah Wark and Jones) have been close to eliminated. They would have to win both of their games today and get significant help from other teams.
Homan's previous three Scotties Tournament of Hearts title wins came in 2013 in Kingston, Ontario, in 2014 in Montreal, Quebec and in 2017 in St. Catharines, Ontario. She also won the gold medal at the 2017 Women's World Curling Championship in Beijing, China.