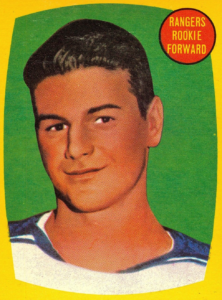 According to the Associated Press on Sunday, Hockey Hall of Famer Rod Gilbert of Montreal, Quebec has passed away at the age of 80. The cause for death has not been released at this time.
Gilbert played 18 National Hockey League seasons from 1960 to 1978. In 1065 regular season games, he had 406 goals and 615 assists for 1021 points. Gilbert was a +38 with 510 penalty minutes, 323 power play points, 52 game-winning goals, and 3142 shots on goal. He has the distinction of playing 1000 games in his career without registering a shorthanded point.
Gilbert played in eight NHL All-Star Games. He represented the Rangers in 1964, 1965, 1967, 1969, 1970, 1972, 1975, and 1977. Gilbert was also a member of the NHL's first all-star team in 1971-72, and won the Bill Masterton Award for perseverance, dedication and sportsmanship in 1975-76. He was recognized for recording 86 points in 70 games despite issues with his back.
Nicknamed "Mr. Ranger," Gilbert was part of the GAG Line, which included Vic Hadfield of Oakville, Ontario, and Jean Ratelle of Lac Saint-Jean, Quebec. In 1982, Gilbert was inducted into the Hockey Hall of Fame, and in 1979, was the first Rangers player all-time to have his number retired. Gilbert wore number seven. Gilbert's 406 goals and 1021 points are the most in franchise history. A right-winger, Gilbert played his junior hockey with the Guelph Royals of the Ontario Hockey Association.