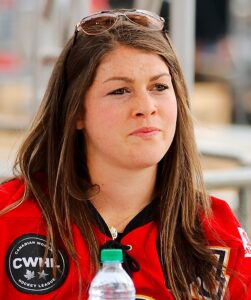 Team Canada has moved to a record of two wins and zero losses at the 2021 Women's World Hockey Championship in Calgary, Alberta. On Sunday, Canada trounced the Russia 5-1.
In a dominating performance, Canada outshot Russia 62-7. Canadian Olympic gold medalists Brianne Jenner of Oakville, Ontario, and Melodie Daoust of Valleyfield, Quebec each led Team Canada with seven shots on goal. The five Canadian goal scorers were Daoust, Sarah Fillier of Georgetown, Ontario, Erin Ambrose of Keswick, Ontario, Canadian Olympic gold medalist Rebecca Johnston of Sudbury, Ontario, and Ella Shelton of Ingersoll, Ontario. Shelton scored the game-winning goal at 9:11 of the second period. Johnston won a gold medal for Canada at the 2010 Olympic Winter Games in Vancouver, while Johnston, Daoust and Jenner won a gold medal for Canada at the 2014 Olympic Winter Games in Sochi.
Team Canada came very close to recording a shutout in the game. However, captain Olga Sosina scored with one second left in the third period.
There are four teams at the Women's World Hockey Championship currently undefeated. Canada is joined by the United States, the Czech Republic and Germany. Canada next plays Switzerland on Tuesday before closing out Group A action with a game against the United States on Thursday.