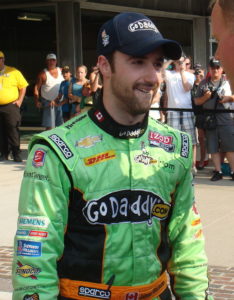 James Hinchcliffe of Oakville, Ontario won an IndyCar race in Iowa on Sunday. For Hinchcliffe, it was his first victory of the 2018 IndyCar season and helped him move up the standings to eighth place after disappointingly failing to qualify for the 2018 Indianapolis 500.
Hinchliffe's title was known as the Iowa Corn 300. It was Hinchcliffe's second Indycar title in the state of Iowa as he also won the Iowa Corn 250 in 2013. It was also the sixth IndyCar win of his career.
In Sunday's race, Josef Newgarden of the United States led the most laps as he was the leader of 229 of the 300 laps in the competition. However throughout the race it was Hinchcliffe that seemed to be getting the most momentum and was gaining speed as the race progressed. On lap 256, Hinchcliffe passed Newgarden, and maintained his lead for the last 44 laps of the race as he was not caught by any of the other race car drivers. Spencer Pigot of the United States was second and Takuma Sato of Japan was third.
It was the first time that Hinchcliffe won the same event twice on the IndyCar circuit. His previous titles came in St. Petersburg, Florida and Sao Paulo, Brazil in 2013, in New Orleans, Louisiana in 2015 and in Long Beach, California in 2017.
The next stop for Hinchcliffe will be the Honda Indy Toronto on July 15. The last two years, Hinchcliffe has reached the podium in Toronto and finished third. In 2016, he was behind 2018 Indianapolis 500 winner Will Power of Australia and Helio Castroneves of Brazil. In 2017, Hinchcliffe was behind Newgarden and American Alexander Rossi.