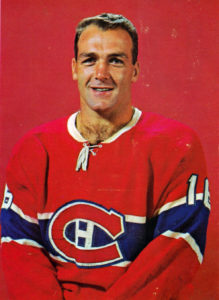 One of the most recognizable hockey players in National Hockey League history passed away on Friday. Henri Richard, known to many as the "Pocket Rocket" and the younger brother of Maurice "Rocket" Richard passed away at the age of 84 in Laval, Quebec according to Tracey Lindeman of CBC Sports. 
Henri Richard played 20 seasons for the Montreal Canadiens from 1955 to 1975. He had 358 goals and 688 assists for 1046 points in 1258 National Hockey League regular season games. Richard also had 932 penalty minutes, 162 power play points, 53 game winning goals and one shorthanded point.
Twice Richard led the National Hockey League in assists. He had 52 assists in 1957-58 and 50 assists in 1962-63. A member of the NHL's first all-team as a center in 1957-58, Richard won the Bill Masterton Award for perseverance, sportsmanship and dedication in 1973-74. He also represented the Canadiens in 10 all-star games (1956-1961, 1963, 1965, 1967, 1974), and captained the Canadiens from 1971 to 1975.
However what Richard should be most remembered by are his Stanley Cup victories. Richard won a NHL record 11 Stanley Cups as a player. He won five consecutive Stanley Cups with the Canadiens from 1956 to 1960, and again in 1965, 1966, 1968, 1969, 1971 and 1973. One might argue that Richard has that record because he won seven of those Stanley Cups when the National Hockey League had only six teams. I disagree with that argument. The fact he won four Stanley Cups with the Canadiens in the post-expansion era after 1967 cannot go unrecognized.
Henri Richard was inducted into the Hockey Hall of Fame in 1979 and Canada's Sports Hall of Fame in 1992. His number 16 was retired by the Canadiens in 1975.