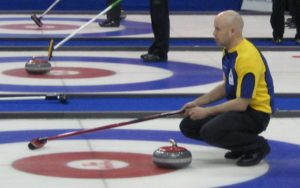 In a remarkable turn of events, there will be four teams playing tiebreakers on Saturday at the 2020 Tim Hortons Brier in Kingston, Ontario. At the end of the championship pool, there was a four-way tie for fourth place between Team Canada, Team Ontario, Team Northern Ontario and Team Wildcard. All four teams had identical records of seven wins and four losses.
Heading into Friday night's play, Canada's Kevin Koe had a record of six wins and four losses, but got a big 7-3 win over Manitoba. Ontario's John Epping was also in a do-or-die scenario and came away with a huge 10-6 win over Northern Ontario. Meanwhile, Team Wildcard's Mike McEwen of Brandon, Manitoba got a second life as he still advances even though he lost Friday night to Alberta's Brendan Bottcher 4-2.
After championship pool play, Alberta finished first with a record of 10 wins and one loss. Saskatchewan and Newfoundland finished tied for second with a record of eight wins and three losses, but Saskatchewan gets second because they beat Newfoundland 6-5 on Friday. Newfoundland will then play the winner of the team that gets through the mini tie-break tournament. In the tie-break semifinals, Canada plays Northern Ontario and Wildcard plays Ontario with the winners playing against each other at the same time as Alberta and Saskatchewan in the 1-2 game Saturday afternoon.