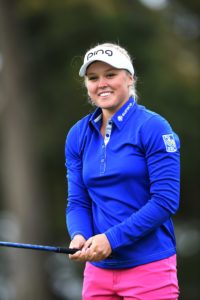 Brooke Henderson of Smiths Falls, Ontario is contention after the second round of the 2018 Canadian Pacific Canadian Women's Open at the Wascana Country Club in Regina, Saskatchewan. After the second round, Henderson is at -12 and is only shot back of leader Amy Yang of South Korea, who is at -13.
Henderson is in a second place tie with Angel Yin of the United States. Nasa Hataoka of Japan, world number one Sung-hyun Park of South Korea and Maria Torres of Puerto Rico are in a three way tie for fourth place at -10.
In the first and second round. Henderson posted a score of -6 each time. In the first round Henderson had a string of six birdies in a seven hole stretch from the fourth to the 10th hole. She then finished up her round with birdies on the 14th and 15th holes.
In the second round, Henderson started on the 10th hole and had four birdies in six holes before recording an unexpected bogey on the 16th hole. Henderson's bogey came after she missed a very short putt for par. On the front nine, Henderson recorded three more birdies within her last four holes to finish at -12.
This is the first time the Canadian Women's Open has taken place in Saskatchewan. Henderson is trying to be the second Canadian woman to win the event. Jocelyne Bourassa of Shawinigan, Quebec won the Canadian Women's Open in 1973 at the Montreal Municipal Golf Club in Quebec.