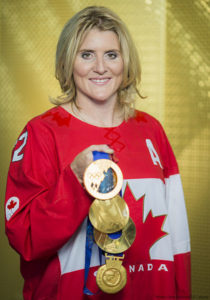 Canadian Olympic gold medalist Hayley Wickenheiser of Shaunavon, Saskatchewan is joining the Toronto Maple Leafs as their assistant director of player development. In an announcement made on Thursday, Wickenheiser will continue to live in Calgary as she completes her medical degree.
Wickenheiser will travel to Toronto when her schedule allows. Over the last two decades until her retirement from women's hockey in 2017, Wickenheiser was the best women's hockey player in the world. She led Canada to four consecutive gold medals in women's hockey at the 2002 Olympic Winter Games in Salt Lake City, the 2006 Olympic Winter Games in Turin, the 2010 Olympic Winter Games in Vancouver and the 2014 Olympic Winter Games in Sochi. 
Wickenheiser will work under the Maple Leafs new general manager Kyle Dubas of Sault Ste. Marie, Ontario, the Maple Leafs senior director of player development Scott Pellerin of Shediac, New Brunswick and the Maple Leafs director of player development Stephane Robidas of Sherbrooke, Quebec. Both Pellerin and Robidas have NHL playing experience, while Robidas played at one time for the Montreal Canadiens and Maple Leafs.
Wickenheiser is not the only former high profile Canadian female athlete who works in the Maple Leafs player development. Figure skater Barbara Underhill of Port Elgin, Ontario is a skating development consultant. Underhill won a gold medal in pairs figure skating with Paul Martini of Weston, Ontario at the 1984 World Figure Skating Championships in Ottawa, Ontario.
It should be noted that the Toronto Raptors also hired a high performance Canadian athlete on August 15. Tamara Tatham, who represented Canada in women's basketball at the 2012 Olympic Games in London and the 2016 Olympic Games in Rio de Janeiro was hired to be a mentor coach for the Raptors 905 (the top minor league affiliate of the Raptors who play in the G League in Mississauga, Ontario).