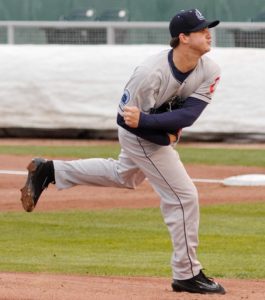 Thomas Pannone had a significant impact in his Toronto Blue Jays debut on Wednesday. In Toronto's 6-0 win over the Baltimore Orioles, Pannone, who was making his Major League Baseball as a starter, became the first Blue Jay ever to not give up a hit in his first six innings of work as a starting pitcher.
Pannone's hit allowed was a single to Orioles first baseman Trey Mancini to lead off the seventh inning. Pannone would finish the seventh inning, without allowing Mancini to come home. Pannone's final line was seven innings, one hit, three strikeouts and two walks.
Now it should be noted that this was not Pannone's Major League Baseball debut. He had previously pitched four and a third innings in four games of relief (two games against the Kansas City Royals and one game each against the New York Yankees and Tampa Bay Rays). During that time, Pannone gave up three hits, two earned runs, had six strikeouts and one walk.
Pannone was traded to the Blue Jays from the Cleveland Indians with second base prospect Samad Taylor for reliever Joe Smith on July 31, 2017, The reason why it has taken a while for Pannone to have an impact with the Blue Jays is because he was suspended the first 80 games of the 2018 Major League Baseball regular season for taking the banned substance dehydrochlormethyltestosterone.
Marcus Stroman and Aaron Sanchez were supposed to be a major part of the Blue Jays pitching staff this season, but both have had extremely disappointing seasons and are both out with finger injuries. With J.A. Happ being traded to the New York Yankees, that has left Marco Estrada to lead the rotation. Second year right hander Sam Gaviglio and rookie southpaw Ryan Borucki also currently in the mix.
The Blue Jays are currently at 58-69. They are 30.5 games back of the first place Boston Red Sox in the American League East.