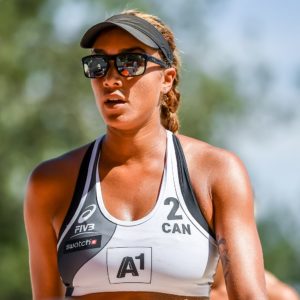 Heather Bansley of London. Ontario and Brandie Wilkerson of Toronto, Ontario won the bronze medal on Sunday in the 2019 Tokyo Open, a women's event which is part of the FIVB Beach Volleyball World Tour. The bronze medal is extremely significant for Bansley and Wilkerson because the Tokyo Open is being used as a test event for the 2020 Olympic Games in Tokyo.
Bansley and Wilkerson were part of Pool A and posted a record of two wins and one loss. They began the tournament with a 21-15, 21-14 win over Victoria Bieneck and Isabel Schneider of Germany. That was followed by a 21-7, 19-21, 15-10 win over Sayaka Mizoe and Suzuka Hashimoto of Japan and then a tight 21-14, 15-21, 16-14 loss to Alix Klineman and April Ross of the United States.
In the round of 16, Bansley and Wilkerson then beat Talita Da Rocha Antunes and Taiana Lima of Brazil 21-19, 21-19. They then beat Kelly Claes and Sarah Sponcil of the United States 23-21, 17-21, 15-13 in the quarterfinals before losing to Agatha Bednarczuk and Eduarda Santos Lisboa of Brazil 21-11, 21-12 in the semifinals. In the bronze medal game, Bansley and Wilkerson then beat Julia Sude and Karla Borger of Germany 21-19, 21-11. Bednarczuk and Santos Lisboa won the gold medal, with Klineman and Ross winning the silver medal.
This was the second straight week that a Canadian team won a medal on the FIVB Beach Volleyball World Tour. Last weekend, the world champions, Melissa Humana-Paredes of Toronto, Ontario, and Sarah Pavan of Kitchener, Ontario won the first ever Edmonton Open by beating Betsi Flint and Emily Day of the United States 21-11, 21-16. On the men's side in Edmonton, Grant O'Gorman of Toronto, Ontario and Ben Saxton of Balzac, Alberta won the silver medal after losing to Nico Beeler and Marco Krattiger of Switzerland 21-15, 23-25, 15-8.