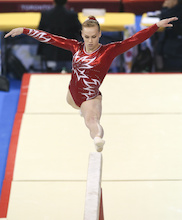 Ellie Black of Halifax, Nova Scotia won the gold medal on Monday in the women's individual all-around gymnastics competition at the 2019 Pan American Games in Lima, Peru. It was one of two gold medals won by Canada on Monday as the other came in team dressage equestrian.
In women's individual all-around gymnastics, Black won gold with a score of 55.25 points. Riley McCusker of the United States won the silver medal with a score of 55.15 points. Flavia Saraiva of Brazil won the bronze medal with a score of 54.35 points. Black earned a medal by 1.5 points over fourth place finisher Kara Eaker of the United States, who had a score of 53.75 points. Black posted the best score of the competition in the uneven bars at 14.3 points.
In team dressage, the Canadian squad of Lindsay Kellock of Toronto, Ontario, Tina Irwin of Stouffville, Ontario, Naima Moreira-Laliberte of Outremont, Quebec and Jill Irving of Moncton, New Brunswick posted a gold medal winning score of 220.287. The United States won silver with a score of 217.821 and Brazil won bronze with a score of 204.223. Team Canada earned a podium finish by 18.895 points over fourth place Mexico, who had a score of 201.392.
Team Canada currently has 33 medals and are second overall behind the United States at 45 medals. They have won 17 silver medals and 12 bronze medals.