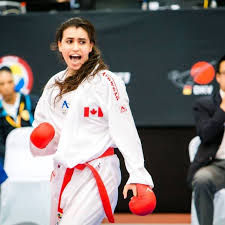 Haya Jumaa of Mississauga, Ontario won the silver medal in the women's 61 kilogram weight class on Sunday in Karate Premier League action in Salzburg, Austria. Jumaa is hoping to participate for Canada in women's karate at the 2020 Olympic Games in Tokyo.
Jumaa participated in Main Tree Pool 1. After getting a bye to round two, Jumaa advanced to the third round with a  4-1 win over Joane Orbon of the Philippines. She then defeated Xiaoling Zhang of China in the third round and Mayumi Someya of Japan in the fourth round. Jumaa then beat Giana Lotfy of Egypt 1-0 in the semifinals before losing to Merve Coban of Turkey in the gold medal match. Lotfy and Xiaoyan Yin of China each won bronze medals.
Jumaa is currently fourth in the world rankings with 1110 points. Yin leads with 2310 points. Coban is second with 2190 points and Lotfy is third with 1290 points.
This is Jumaa's eight career medal (three silver medals and five bronze medals) in Karate Premier League action. She previously won bronze in Paris, France on January 27, 2017, silver in Rotterdam, Netherlands on March 17, 2017, silver in Halle, Germany on September 8, 2017, bronze in Berlin, Germany on September 14, 2018, bronze in Dubai, United Arab Emirates on February 15, 2019, silver in Moscow, Russia on October 4, 2019 and bronze in Madrid, Spain on November 29, 2019.