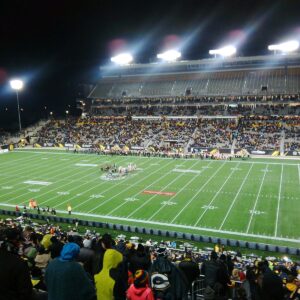 The National Hockey League will be going to Hamilton, Ontario for the 2022 Heritage Classic. The regular season outdoor game will be played between the Toronto Maple Leafs and Buffalo Sabres at Tim Hortons Field on March 13 according to the Canadian Press on Thursday. Tim Hortons Field is the home of the Hamilton Tiger-Cats of the Canadian Football League.
Outdoor games in Canada in the NHL are known as the Heritage Classic, while outdoor games in the United States in the NHL are known as the Winter Classic. This will be the sixth Heritage Classic, but the first Heritage Classic where a Canadian team is playing an American team. Interestingly, the Sabres will be the home team even though the game is in Canada.
The other five Heritage Classics saw the Montreal Canadiens beat the Edmonton Oilers at Commonwealth Stadium in Edmonton on November 22, 2003, the Calgary Flames shutting out the Canadiens 4-0 at McMahon Stadium in Calgary on February 20, 2011, the Ottawa Senators beating the Vancouver Canucks 4-2 at B.C. Place in Vancouver on March 2, 2014, the Oilers shutting out the Winnipeg Jets 3-0 at Investors Group Field in Winnipeg on October 23, 2016, and the Jets defeating the Flames 2-1 at Mosaic Stadium in Regina on October 26, 2019.
Hamilton has been the host city of some of the most exciting hockey ever played. At the 1987 Canada Cup at Hamilton's Copps Coliseum, Canada defeated the Soviet Union 6-5 in games two and game three of the best-out-of-three series. Then four years later at the 1991 Canada Cup in Hamilton, Team Canada beat the United States 4-2 in game two of the best-out-of-three final series to win their third consecutive Canada Cup title.