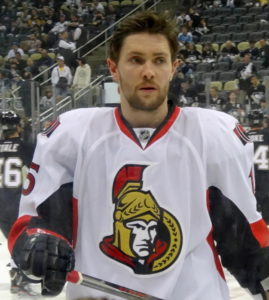 According to the Canadian Press on Friday, Chicago Blackhawks center Zack Smith of Maple Creek, Saskatchewan retired at the age of 33. Smith played in 12 seasons with the Ottawa Senators and Chicago Blackhawks from 2008 to 2020. He was with the Senators for 11 seasons from 2008 to 2019, before one season with the Blackhawks from 2019 to 2020.
Smith had 98 goals and 106 assists for 204 points in 662 games. He was a -46 with 722 penalty minutes, 13 power-play points, 22 shorthanded points, 15 game-winning goals, 1035 shots on goal, 3369 faceoff wins, 273 blocked shots, 1318 hits, 307 takeaways, and 267 giveaways.
Known for his defensive prowess at the forward position, Smith actually received one fifth-place vote for the Selke Trophy during the 2015-16 season. That same year, he led the National Hockey League in shooting percentage at 20.7%. Smith scored 25 goals on 121 shots. The 25 goals and 36 points in 2015-16 were also career highs.
Twice in Smith's career, he was second in the NHL in shorthanded goals. His five shorthanded goals in 2015-16, was only behind his former Senators teammate Jean-Gabriel Pageau of Ottawa, Ontario, who had seven goals. Then in 2016-17, Smith's four shorthanded goals were only behind Viktor Arvidsson of the Nashville Predators who had five goals.
In the playoffs, Smith had two goals for seven assists for nine points in 45 games. He was a -14 with 58 penalty minutes, 57 shots on goal, 222 faceoff wins, 16 blocked shots, 114 hits, 22 takeaways, and 16 giveaways.