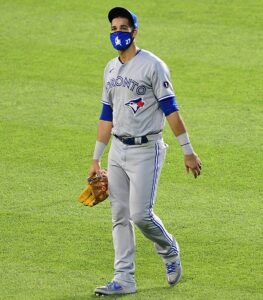 The Toronto Blue Jays might not have swept their series this past weekend with the Baltimore Orioles (won three of four games), but there is no doubt the bats were working big time at Camden Yards. In the four game series, the Blue Jays scored 47 runs, a franchise record, which broke the record of 42 runs they scored from June 26 to June 28, 1978.
This past weekend, the Blue Jays lost 6-3 to the Orioles on Friday, before beating the Orioles 11-10 and 11-2 on Saturday in a doubleheader, and then 22-7 on Sunday. What is most fascinating is the fact that the Blue Jays only played 32 offensive innings on the road rather than 36 innings for a normal four game series on the road because the two games on Saturday were seven-inning doubleheaders.
The Blue Jays also set the Major League Baseball record for most runs in a four-inning span. They had 27 runs in four innings, and broke the previous record of 25 runs according to ESPN. The previous record had been accomplished thrice. On Saturday, the Blue Jays scored 11 runs in the top of the seventh inning in their 11-2 win over the Baltimore Orioles. It was the second game of a doubleheader. The Blue Jays then had five runs in the first inning, one run in the second inning, and 10 runs in the third inning in their 22-7 spanking over the Orioles on Sunday.
Meanwhile, Lourdes Gurriel Jr. hit his fourth grand slam of the season on Sunday, which set a franchise record for most grand slams in a season. Gurriel Jr. also had grand slams in a 9-0 Toronto win over Baltimore on June 24, in a 10-0 Toronto win over the Texas Rangers on July 18, and in an 11-10 Toronto win over the Oakland Athletics on September 3. In the 22-7 Blue Jays win over the Orioles on Sunday, Teoscar Hernandez also hit a grand slam, making it the first time the Blue Jays had two grand slams in the same game.
More importantly, the Blue Jays are now in a wildcard spot. At 80 wins and 63 losses, they are tied with the Boston Red Sox. They lead the New York Yankees by a game, and the Seattle Mariners and Oakland Athletics by three games each.