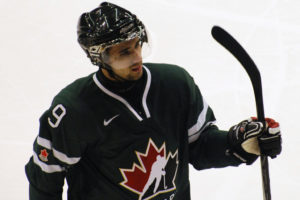 Nazem Kadri of London, Ontario had his fifth career National Hockey League hat trick on Wednesday as the Toronto Maple Leafs defeated the Washington Capitals 6-3 at Scotiabank Arena in Toronto, Ontario. Kadri is the second Canadian to record a hat trick against the defending Stanley Cup champions this week as Jonathan Toews of Winnipeg, Manitoba notched a hat trick for the Chicago Blackhawks in an 8-5 win over the Capitals this past Sunday.
In the Maple Leafs win over the Capitals, Kadri scored one goal in the first period and two goals in the third period. He scored the Maple Leafs's first goal with 26 seconds left in the first period from William Nylander of Calgary, Alberta and Morgan Rielly of Vancouver, British Columbia to tie the game at one goal apiece. Kadri then scored at 2:10 of the third period from Connor Brown of Toronto, Ontario and Martin Marincin to put the Maple Leafs up 4-2. Then at 10:15 of the third period, Kadri notched the hat trick as he scored from Nylander and Brown to put the Maple Leafs up 5-2.
All five of Kadri's career hat tricks have come in Maple Leafs victories. The others came in a 5-4 win over the New York Islanders on February 28, 2013, in a 4-0 win over the Ottawa Senators on March 30, 2013, in a 5-2 win over the Florida Panthers on March 29, 2016 and in a 6-3 win over the Columbus Blue Jackets on February 14, 2018.
In 49 games for the Maple Leafs this season, Kadri has 13 goals and 19 assists for 32 points. The Maple Leafs are second in the Atlantic Division with a record of 30 wins, 17 regulation losses and two overtime losses for 62 points.