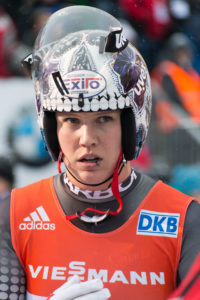 Alex Gough of Calgary, Alberta is on the brink of Canadian sports history in luge. Never before in the history of Canadian sports has a Canadian earned an Olympic medal in luge and now Gough, who is currently in third place, is only two runs away.
On Monday at the Olympic Sliding Centre at the 2018 Olympic Winter Games in Pyeongchang, Gough has a two run time of 1 minute, 32.645 seconds. She trails the reigning Olympic and World Cup champion Natalie Geisenberger of Germany by 0.191 seconds and Dajana Eitberger, who finished second in the World Cup luge standings in 2017-18, by .071 seconds.
Gough is also the only luger that is preventing a German sweep in women's Olympic luge at the moment. Gough leads Tatjana Huefner by 0.16 seconds. Huefner is the reigning world champion and finished second in the 2017 World Cup standings.
Kimberley McRae of Victoria, British Columbia, is also in striking distance of the podium. She is in sixth place and is only .143 seconds back of Gough for a podium spot. McRae has also made a jump in the standings of a major luge event before. At the 2017 World Luge Championships in Igls, Austria, McRae moved from 10th to third after the first run.
The third Oympic women's run will be at 3:30 am MT and the fourth Olympic women's run will be at 5:15 am MT on Tuesday.