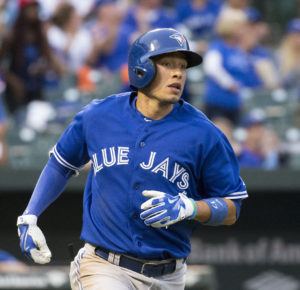 It has been quite the week for Toronto Blue Jays  second baseman Ryan Goins of Round Rock, Texas. On Wednesday, Goins had his arm stepped on as he tried to steal second base. The incident looked a lot worse than it actually was, and even though he left the game against the Tampa Bay Rays, he was back in the lineup again on Thursday (a 5-3 Toronto win). Then on Friday, Goins tied a career high with 45 runs batted in during a 7-4 Blue Jays loss to the Chicago Cubs at Wrigley Field.
However it is very impressive that Goins has recorded 45 runs batted in, when you consider the fact that it took him 88 more at bats to get 45 runs batted in during the 2015 Major League Baseball regular season than it did in 2017.
Goins's 2017 batting average is not very strong at .215. However he has been hitting in the clutch significantly this season. In 70 at bats with runners in scoring position, he has 24 hits for a batting average of .343 with six doubles and four home runs. Goins's statistics are even better with the bases loaded, as he has nine hits (including a double and a grand slam) in only 12 at bats for a sparkling batting average of .750. Goins's grand slam came in a 8-4 Blue Jays win over the Milwaukee Brewers on May 24.
On Friday, Goins hit in the clutch again as he recorded a big two run single in the eighth inning to pull the Blue Jays within a run. Toronto still lost 7-4, but with the loss of Troy Tulowitzki at shortstop for the season with an ankle injury, they will need continued clutch hitting from Goins if they hope to make the playoffs for the third straight season.