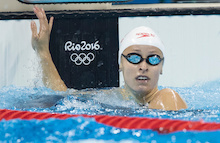 Team Canada has won its first gold medal at the 2017 Summer Universiade in Taipei, Taiwan. The Canadian team of Olympic bronze medalists Katerine Savard of Pont-Rogue, Quebec and Kennedy Goss of Toronto, Ontario, along with Jacqueline Keire of Burlington, Ontario, Sarah Fournier of Quebec City, Quebec, Alexia Zevnik of Montreal, Quebec, and Kelsey Wog of Regina, Saskatchewan won the gold medal in the women's 4x100m freestyle swimming relay.
Savard, Keire, Fournier and Zevnik raced for Canada in the final. Despite having an outer lane of lane one to start the final, they won the gold medal with a time of 3:39.21. Russia won the silver medal with a time of 3:39.39 and the United States won the bronze medal with a time of 3:40.09.
Wog and Goss also received medals as they were in the pool during heat two and helped Canada qualify for the final. Savard attends the University of Montreal, Fournier attends Cegep de Sainte-Foy, and Wog attends the University of Manitoba. The other three Canadian Olympic gold medalists are part of the NCAA–Goss attends Indiana University, Keire attends the University of Cincinnati and Zevnik attends North Carolina State University.
Savard and Goss won the bronze medal for Canada in the women's 4x200m freestyle swimming competition at the 2016 Olympic Games in Rio de Janeiro. Savard competed for Canada in the final and Goss competed for Canada in the heat. The gold medal will give Savard, Goss, Keire, Fournier, Zevnik and Wog confidence as they hope to represent Canada at the 2020 Olympic Games in Tokyo.