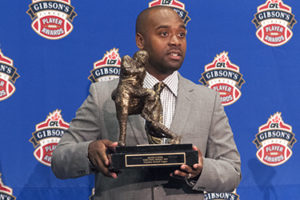 Kevin Glenn of the Saskatchewan Roughriders reached a Canadian Football League milestone on Sunday. He became just the sixth quarterback in CFL history to start in 200 Canadian Football League games according to Murray McCormick of the Regina-Leader Post. 
Glenn follows in the footsteps of Damon Allen (304 starts), Anthony Calvillo (277 starts), Ron Lancaster (257 starts), Henry Burris (229 starts) and Ricky Ray (209 starts). Of the other five quarterbacks, the only other active quarterback is Ray as he is still quarterbacking the Toronto Argonauts.
Glenn was strong on Sunday as he completed 26 passes in 36 attempts for 386 yards and three touchdowns. It was a dominant first quarter for the Roughriders as they had a 24-3 lead over the Winnipeg Blue Bombers en route to a 38-24 victory.
Glenn also has a strong history playing in Labour Day weekend rivalry games. He has also played on Labour Day with the Calgary Stampeders in their annual Labour Day game against the Edmonton Eskimos and with the Hamilton Tiger-Cats in their annual Labour Day Game against the Toronto Argonauts. The Roughriders annual Labour Day game against the Blue Bombers is an annual event in Regina the Sunday before Labour Day.
The Roughriders meanwhile have now won three straight games and are out of the basement in the CFL West. They are also above the .500 mark with a record of five wins and four losses.