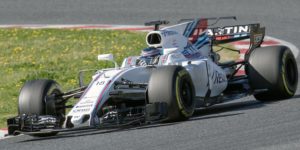 Lance Stroll of Montreal, Quebec made Formula One history on Sunday. According to TSN, he became the youngest driver ever in Formula One to start on the front row at only the age of 18.
Stroll started second behind Lewis Hamilton of Great Britain. Hamilton went on to win the race as he beat Valtteri Bottas of Finland, who finished in second place, and Sebastian Vettel of Germany, who finished in third place. Stroll finished in seventh place.
It has been a very respectable season for Stroll during his rookie season on the Formula One circuit. In June, he became the youngest driver ever to reach the podium when he finished third in Azerbaijan behind the winner, Daniel Ricciardo of Australia, and Bottas.
After not being able to finish his first three races this season in Australia, China and Bahrain, Stroll has finished his last 10 races and has generated points (by finishing in the top 10) in four races. There are seven more Formula One events this year. They are in Singapore on September 17, Malaysia on October 1, Japan on October 8, the United States on October 22, Mexico on October 29, Brazil on November 12 and the United Arab Emirates on November 26. Stroll is currently in 12th place in the Formula One standings with 24 points.