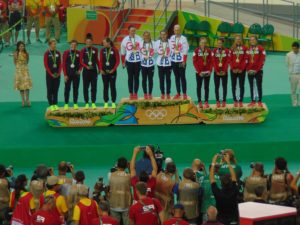 Olympic bronze medalist Georgia Simmerling of Vancouver, British Columbia won World Cup women's ski cross medals on back-to-back days this past week in Innichen, Italy. Simmerling won a silver medal on Thursday and a bronze medal on Friday. 
On Thursday, Simmerling placed behind Heidi Zacher of Germany. Sandra Naeslund of Sweden won the bronze medal and Alizee Baron of France finished in fourth place.
On Friday, Simmerling placed behind Naeslund, who won the gold medal and Marielle Berger of France, who won the silver medal. Simmerling was ahead of Fanny Smith of Switzerland, who finished in fourth place.
In each of the World Cup ski cross big finals for the women this week, Simmerling was wearing the green bib and in the fourth lane. An advantage in ski cross normally goes to a racer in one of the two middle lanes, but as history has shown, ski cross can be a very interesting event with a lot of unexpected situations developing.
Simmerling is now in third place in the World Cup standings with 255 points. She is behind Naeslund at 420 points and Zacher at 385 points.
Simmerling is an Olympic bronze medalist, but not at an Olympic Winter Games. She won her Olympic bronze medal in women's track team pursuit cycling at the 2016 Olympic Games in Rio de Janeiro alongside Laura Brown and Allison Beveridge of Calgary, Alberta, Kirsti Lay-Giroux of Medicine Hat, Alberta and Jasmine Duehring of Vancouver, British Columbia.