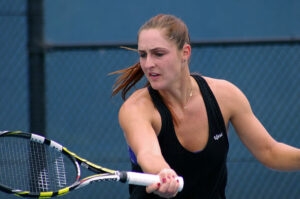 Gabriela Dabrowski of Ottawa, Ontario is a grand slam women's doubles champion for the first time.  On Sunday, Dabrowski and her partner, Erin Routliffe of Auckland, New Zealand, defeated Laura Siegmund of Germany and Vera Zvonareva of Russia, 7-6, 6-3 in the women's doubles final of the 2023 United States Open.
Dabrowski has now won three grand slam events overall. She previously won the mixed doubles titles at the 2017 French Open with Rohan Bopanna of India, and the 2018 Australian Open with Mate Pavic of the Bahamas.
Interestingly, Routliffe has a Canadian connection as well. Even though she was born in New Zealand, and resides in New Zealand, Routliffe was raised in Caledon, Ontario, and spent time at the National Training Center in Montreal, Quebec.
For Dabrowski, she has now won 20 WTA career finals in women's doubles. However, it was her very first title with Routliffe. It was also Dabrowski's first win of the 2023 tennis season.
In the final on Sunday, Dabrowski and Routliffe had two aces compared to zero for Siegmund and Zvonareva. They also had two double faults compared to five for Siegmund and Zvonaeva. In addition to beating Siegmund and Zvonareva, Dabrowski and Routliffe beat American Lauren Davis of the United States and Anastasia Detiuc of the Czech Republic 4-6, 6-1, 6-0 in the first round, Lin Zhu of China and Fang-Hsien Wu of Taiwan, 6-3, 3-6, 6-3 in round two, Barbora Strycova and Marketa Vondrousova in a walkover in third round, fellow Canadian Leylah-Annie Fernandez and Taylor Townsend of the United States 2-6, 6-3, 7-6 in the quarterfinals, and Xinyu Wang of China and Su-wei Hsieh of Taiwan 6-1, 7-6 in the semifinals.